One of the best parts about being an Indian bride is that you are thoroughly spoilt for choices in more ways than you can imagine! Every minute element and aspect of an Indian bride celebrates the idea of 'shringaar' Needless to say, as an Indian bride you will not experience a dearth of choices when it comes to translating your dream bridal look into reality for your D-day. While each bridal element has its own unique place, jewellery undoubtedly is among the top-most essentials for ladies. Whether you're a bride or bridesmaid, you very well know that nailing the wedding jewellery is getting half the look right!
And no one knows or does this better than a legacy brand like Mangatrai Neeraj which encapsulates the beauty and meaning of bridal jewellery and jewels through its thoughtful, breathtaking creations. Their premium bridal collection is truly every soon-to-be-bride's pride. Crafted with care and intricacy, handpicked jewels and displaying rich karigari techniques, each precious piece of jewellery carries a unique tale of tradition and royalty. Moreover, shopping from this house of premium jewellery is an experience in itself. You can sit in the comfort of your home this pandemic-era and enjoy a complete virtual tour of Mangatrai Neeraj's exquisite and premium jewellery collection. With customization options available to you, need we say you can design your own creation just the way you aspired to?!
So, this wedding season ace your bridal look by notches with Mangatrai Neeraj's premium bridal jewellery collection- a glimpse of which lies below:
Diamond Necklace: When it comes to donning the perfect bridal necklace, it is that one piece of jewellery that 'really matters'. Seemingly noticeable, it has the power to elevate your entire look! Opt for a stunning diamond necklace like this real bride @vajjahimajaaa from Mangatrai Neeraj's exclusive collection. Featuring precious diamonds and changeable green and red stone along with pearls, this necklace set is detachable, thereby marrying comfort with beauty and functionality.
Diamond Earrings:  From classic oversized costume earrings to dainty diamond studs, Mangatrai Neeraj houses every kind of earrings for every type of event. Just like the precious diamond necklace, this pair of diamond earrings is embellished with changeable green and red stones to set you apart on your D-day!
Diamond Maang Tikka: It will be safe to say that a bridal look is incomplete without the magical maang tikka. To help you get this integral part of your look just right, Mangatrai Neeraj's unique, premium bridal jewellery collection brings you all the inspiration you need. This exceptional diamond maang tikka is adorned with precious green stones and dainty pearl droppings to add more spark to your bridal look!
Diamond Vaddanam: We bet you'd agree that beauty lies in the details, nuances. Hence, to help you complete your bridal look in style and splendour, Mangatrai Neeraj also treats you with an intricately crafted diamond vaddanam as part of its premium bridal jewellery collection. Featuring diamonds, pearl droppings and precious green stones, this exquisite rendition of an ancient piece of jewellery is what you must include in your bridal jewellery cart!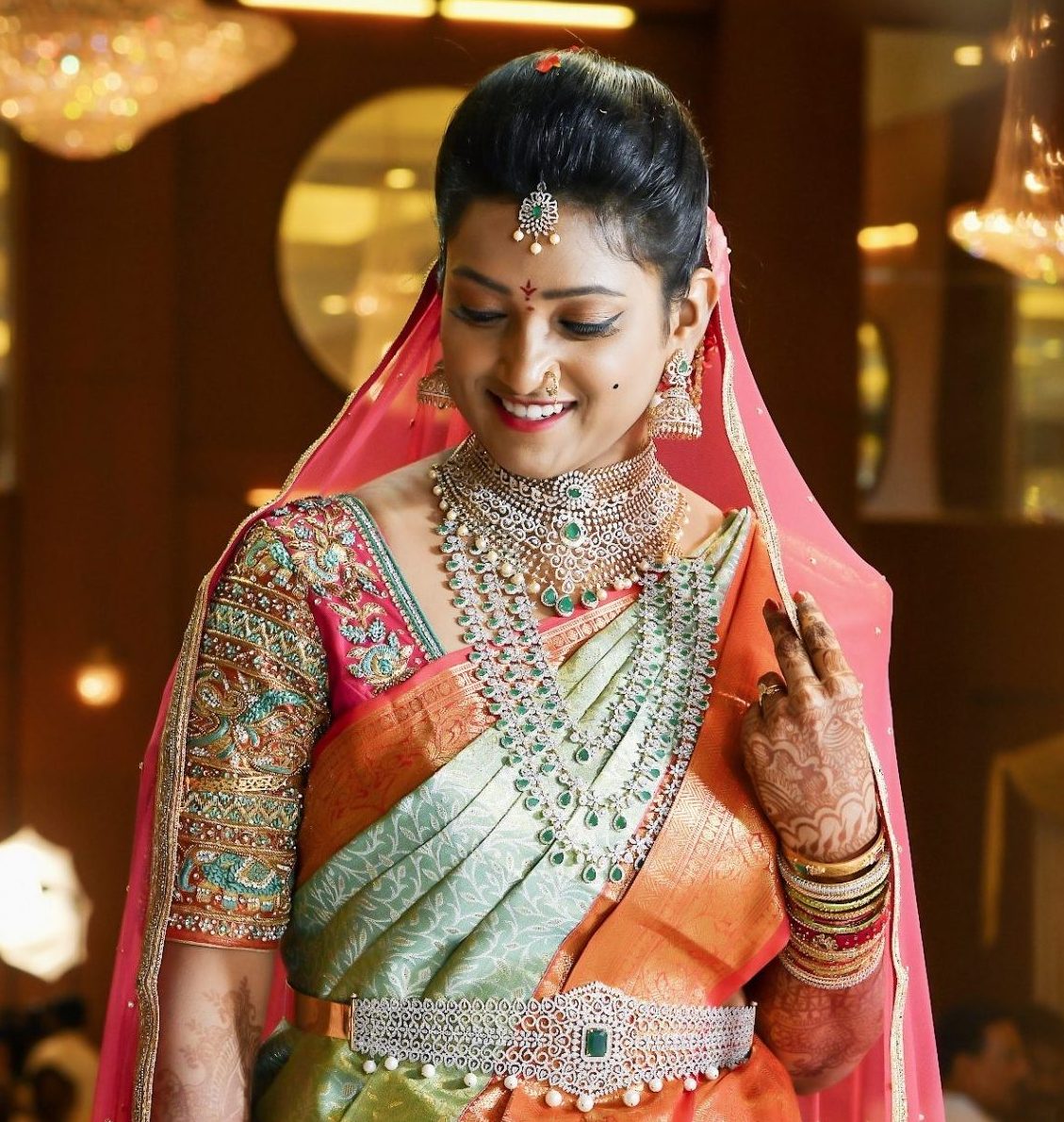 These regal additions from Mangatrai Neeraj's house of premium jewellery are all what you need to shine on your momentous days. Crafted with utmost skill and creativity, you won't seem to get enough of these gems. Personifying exuberance and grandeur, each of these creations are sure to turn you into a timeless beauty!
So ladies, we hope you now know where to stop and shop for the most exciting and exquisite jewellery collection in town?!