The first thing you see when you enter a wedding hall or mandap is the wedding decor, right? You can not deny that you actually run your eyes around and make up your mind about the wedding based on the decor. That is why when the tables are turned and it is your turn to tie the knot, you end up sweating about it. Along with this, we all know that wedding decor is one of the most important things that make your wedding pictures look amazing. So, in this gram-era, couples no longer want the done-and-dusted wedding stage decoration. They want something fresh, different, and something that reflects their taste, their story, their personality. So, for every such couple who is on the hunt for some stunning marriage decoration, we have the right kind of blog ready. To give you some reception stage and decoration ideas, we have curated a list of the 40 best wedding stage decor photos that you can show to your decorator and have the marriage decoration of your dream! Trust us! Your mind will surely be blown once you see what we have compiled for you. Let's Go!
1. Surreal Marriage Decoration that Looks Right Out of Fairytale
Image source: DreamzKrraft
Floral decorations are the go-to for many couples. Fresh flowers, mild fragrance, and a heavenly look of it make every wedding look nothing but perfect. This grand floral reception stage looks so surreal!
2. The Classic Decor for Big Fat Indian Weddings
Stage Decor Credit: Anais Events
You can never go wrong with the red and gold look. It is classic, it is timeless and it is the best of the lot. This kind of wedding stage decoration is perfect for couples, who have a classic Indian-themed wedding. The gold and red colors look festive and traditional enough for a beautiful wedding function.
3. Pop of Bright Colors
Image Source: Anais Events
When you can go glam with the colors, then why settle for something ordinary? A beautiful pop of color along with some white and pastel flowers to cut the monotony makes for a simple yet gorgeous marriage decoration. Perfect for the couple who likes a hint of color, but nothing too loud!
4. Classic Indian-Themed Wedding Stage Decor
Image Source: Eventrics Indian Weddings
The couples, who look out to marry like kings and queens, should also go for the marriage decoration that resembles the envision. A wedding stage decor that looks right out of an Indian palace! Now, who wouldn't like that? This kind of marriage decoration with huge sets and chandeliers is ideal for those who are looking for reception stage decors without any flowers. The touch of maroon with the gold aesthetics is sure to take your breath away.
5. Simple yet Classy Marriage Stage Decoration
Decor credits: DreamKrraftz
White is always glam, always classy and of course, looks out of this world. If you want to keep your wedding decor on these lines, and if an all-white theme excites you, then Raas Events has the best marriage decoration idea. The use of white florals in the backdrop as well as at the foot of the stage makes this decor look stunning.
6. Beautiful Night Sky Decor
Are you a fan of Van Gogh's Starry Night, aren't you? If yes, then why are you looking at any other marriage decoration for your wedding festivity. Here is the best one, a night sky-inspired stage decor, which is something that looks stunning and is definitely for the hatke couples.
7. Curtains and The Flowers
Image Credits: Kimberly Photography
We have seen multiple weddings which are replete with golden arches, colorful curtains, bright flowers, and huge sofas. This kind of traditional and go-to stage decor is perfect for couples who like decorations that are old-school but classic. If you do not want to risk your marriage decoration by experimenting on your final day, then what's bad in going for something timeless. We bet your pictures will be timeless too.
8. Mandap-cum Stage Decor
Image Source: DreamKrraftz
Look at the picture of this gorgeous white wedding decor. Isn't it beautiful? If your answer is yes, then you might actually be surprised to know that this is also a money-saver in disguise. The beautiful gazebo-like structure can be your mandap as well as the reception stage after the marriage rituals. Just take off the havan kund and pooja material and replace it with the royal-looking chairs to convert the mandap to a reception stage! Win-Win, isn't it?
9. Candle-Lit Stage Decor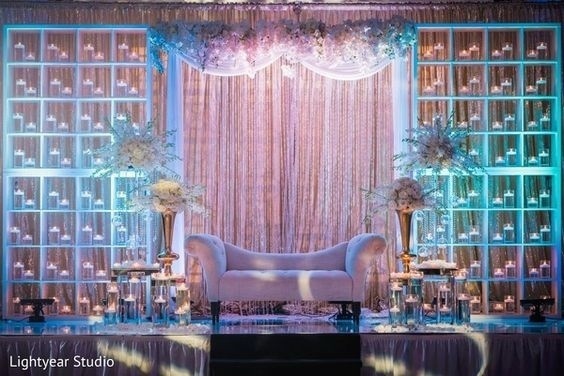 Image Source: Lightyear Studio
Everything seems romantic when you dim the lights and light up a few candles. No, we ain't talking about a getaway couples dinner, but we indeed are talking about your wedding function decor. If you are a candle lover, then you'll fall in love with this reception stage decoration as soon as you see it. The simplicity of white flowers, white drapes, and a shelf backdrop with candles all over is big thumbs-up for beautiful wedding photos!
10. Royal Looking Stage Decor
Image Source: Designer Events Inc
Nothing is more classic Indian-themed than a paisley and blue drapes backdrop! The regal sofa plus the two lanterns on either side just add to the overall charm of this Indian stage decoration. The cherry on top is surely due to the touch of gold. Imagine sitting like a royal couple with this stage decor. We think it's jaw-droppingly beautiful. Don't you?
11. Light Up Your Marriage Decoration
Image Source: Shawna Yamamoto & Company
We have already talked about floral decors and their beauty of them. So, if you wish to amp it up, then what about throwing in some gold or amber lights? If a wedding stage decoration full of flowers and beautifully placed lights is your only requirement, then this wedding stage image is all you need for your inspiration! The color scheme and the white sofa just look like the best combination ever.
12. Elegant and Graceful Decor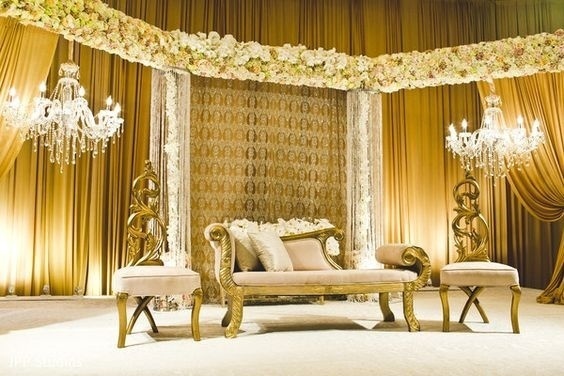 If elegance is the only word you are looking forward to when it comes to your stage decor, then this one is THE ONE for you. The gorgeous white flowers, crystal chandeliers, and gold-accented sofas give this wedding decor a total of #royalvibes!
13. Grand or Magnificent or Both?
Give a grand feel to your marriage decoration by choosing a wedding stage decor idea that looks like it's a part of some age-old palace. The combination of white, blue, and ombre in this wedding stage decoration image has us going gaga over its sheer beauty.
14. The Instagram Couple!
Image Source: iPlanner Bali
Sometimes it is okay to be the most out-there couple when it comes to celebrating your day with a bang. One of the quirkiest wedding decor ideas, this beautiful stage setup reflects freshness and vibrancy in one frame. This marriage decoration is worthy of being the perfect decor for the gram-brides and gram-grooms. So, if you want something floral but not too flowery, this wedding stage decoration is just the perfect pick for you!
15. A Wedding Decor that Speaks for Itself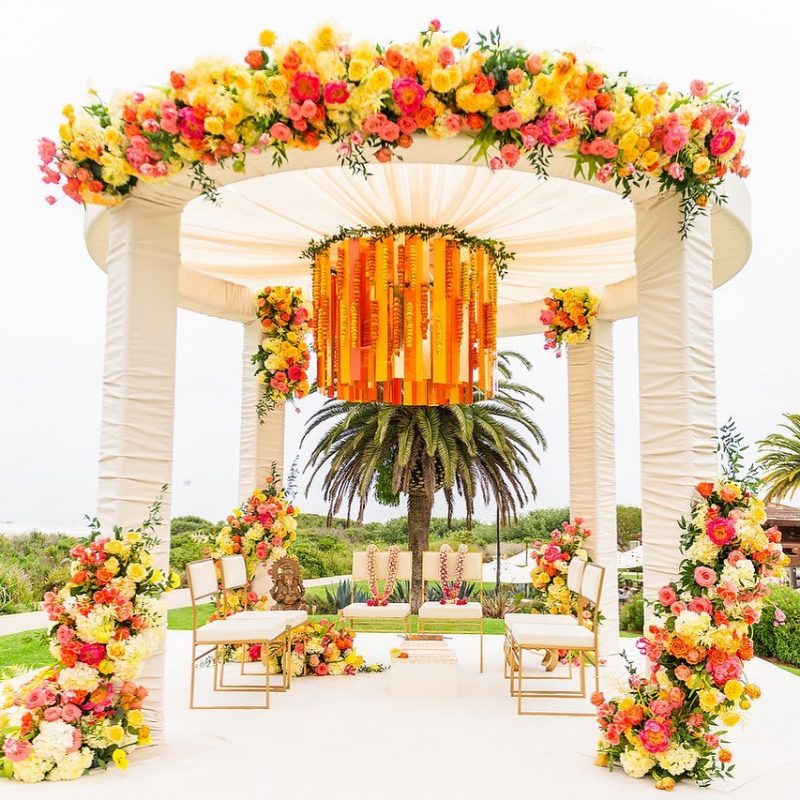 Image Source: Shawna Yamamoto & Company
A vibrant tone for the stage can surely be the best setup when it comes to a simple yet elegant marriage decoration. If you had to capture elegance in one frame, this is exactly what it would look like! This one is ideal for a simple and minimal wedding stage decoration if you have a modern classic taste. What's more? This decor can be chosen if you have a space crunch at your venue as it does not occupy much space.
16. Splash of Colors
Image Source: DreamKrraftz
Is there a better color combination than blue and red for stage decor? Well, this wedding stage image is surely giving some rich vibes with its use of colorful drapes, colorful fresh blooms, and a regal sofa!
17. Pink and White, The Best Combination?
Image Source: Anais Events
They say the best-looking things are minimal and tasteful. This reception stage image is a testament to that. It is simple, graceful, and absolutely stunning! Right? We are in love with it, and who wouldn't be. It is everything you would ask for in your marriage decoration.
18. Dramatic like Bollywood Decor
Image Source: I Photography
A larger-than-life backdrop of flowers, golden lights, and an arch makes this stage decoration look exquisite. The long sofa in emerald green with a reflective floor just adds that final bit of oomph factor to the entire setup. If you love drama, then this is what your stage should look like.
19. Thoughts about A Yellow Decor?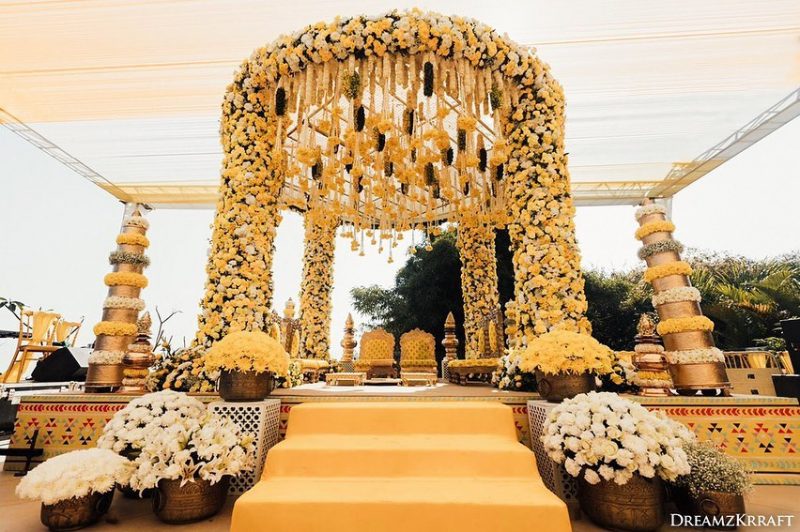 Image Source: DreamKrraftz
Displaying a beautiful riot of yellow, this stage decoration is apt for couples who want to skip the orchids and carnations, and stick to the good-old genda phool! And must I say, this looks truly desi as well? This marriage decoration is for all couples, who love the fresh floral look but still want to stand out by choosing a not-so-common yet common flower.
20. A Grand Floral Stage Decor
Image Source: Dream Krraftz
This kind of grand stage decoration is perfect for weddings that take place in open spaces. The sheer grandiosity of this stage decoration is awe-inspiring in itself. The use of pillars, flowers, and the right amount of PINK makes this a great Indian-themed marriage decoration for your stage.
21. A Floral Mandap
Image Source: Big Bash Entertainment
A simple canopy of white and pink flowers along with pink drapes, white pillars, and sofas make this stage decoration, a simple yet eye-catching option for those who like to keep it low-key! You are sure to feel grand with this marriage decoration idea.
22. The Grandness of Chandeliers
Image Source: Shawna Yamamoto & Company
An eye-catching elegant stage decoration with all the elements that make a wedding decor look nice is truly a good option to make your wedding day grand. The chandeliers, grand sofas, and perfectly lit backdrop add to the grace of this marriage stage decoration.
23. An Offbeat Wedding Stage Decoration
Image Source: Imperial
We have already said that white makes everything dreamy, classy, beautiful, and picture-perfect. If you are looking for a little offbeat decor, then this stage decor fits your requirement. The use of royal blue and white drapes with antique sofas makes this wedding stage design stand out from the crowd.
24. An Open-Air Stage Decor
Image Source: DreamKrraftz
This wedding reception stage decoration is apt for an outdoor reception because of its sheer size. The lovely backdrop with flowers and lights along with the sofa is truly a sight to behold.
25. A South Indian Style Marriage Decoration
Image Source: DreamKrraftz
If you are looking for South Indian decor and your approach to wedding decoration is traditional, then a stage like this one looks absolutely magnificent. The use of golden pillars, Indian flowers, and godly motifs makes this wedding stage decoration one of our favorite Indian-themed marriage decorations.
26. The Most Romantic Stage ever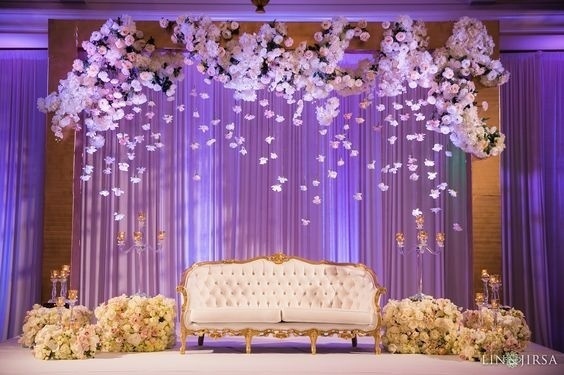 Image Source: Lin & Jirsa
If you want a simple and romantic-themed floral stage decor, then this picture is all the inspiration you need to set up your reception stage. Lin and Jirsa have surely done justice with the romantic theme that we are talking about. The use of white and pink roses across the stage and backdrop make this decor look truly romantic!
27. Unconventional Yet Beautiful Stage Decor
Image Source: Going Bananas Photography
You might not have imagined this kind of stage decor to be this beautiful. An arch full of roses covers the bride's and groom's sofa with simple drapes in the backdrop. What's not to love in this offbeat stage decoration? To top it off, roses are anyways the best flower to pick when it comes to marriage decorations.
28. Decor To Go Gaga Over
Image Source: Lin & Jirsa
Red is a color that's seen widely in Indian wedding decorations, and for all the right reasons! Just take this gorgeous stage for instance. The simple shelf backdrop covered with red roses makes the whole stage decoration look just wow!
29. A Decor that is Feast To The Eyes
Image Source: Decor by Classic
Truly exuberant and grand, this floral marriage decoration is what dreams are made of! The canopy of hanging flowers in the backdrop along with glass panels and large flower vases makes this stage decor look romantic!
30. Another Yellow and Gold Decor
Image Source: DreamKrraftz
If you really want to rock your wedding function with super awesome decor, then just look at this one. This lively yellow wedding decor is full of flowers and drapes, which gives it an Indian vibe. What's cool is that it can be doubled up as a mandap decor if you replace the sofa with pooja essentials.
31. There is nothing like too much shimmer
How much shimmer is too much shimmer? Do you have an answer to this? No, we don't think that you can limit the glam quotient. This one is a contemporary wedding decor idea, a glamorous one with shiny glitter strings, a train of white flowers, perfectly placed lights, and a simple sofa.
32. A Fun and Unique Marriage Decoration
Bored of seeing flowers and chandeliers everywhere? Make way for umbrellas and Bollywood-inspired throw pillows that make for a fun stage decoration idea! You are going to rock this decor like some Bollywood hero-heroine and what's bad in being the talk of the town?
33. A Peacock Decoration
Image Source: Anais Events
Since you have lesser space at indoor weddings, this Peacock decor will rock your wedding day. This floral stage decoration is perfect. It has a nice backdrop of floral wreaths along with a pair of peacocks on the sides of the stage. Just two words for it – simple and beautiful.
34. The Gold-Accented Decor
Image Source: Kimberly Photography LLC
The gold sofa, drapes, and backdrop along with white and pink floral arrangement make this stage decoration perfect for an indoor evening reception! You are sure to feel like a princess once you walk down the aisle up to this stage.
35. Drapes, Drapes & More Drapes!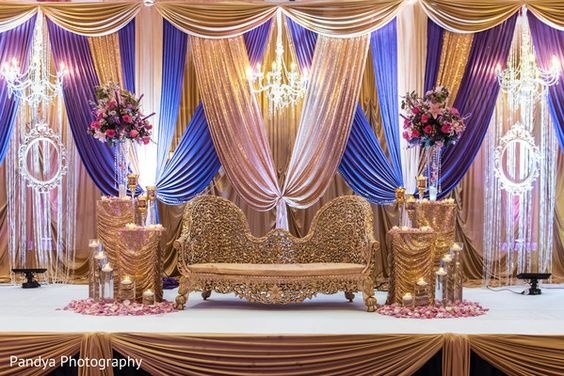 Image Source: Pandya Photography
For the drape-loving couples out there, this stage decor is like a dream come true. The multi-color drapes in the background along with chandeliers and a golden sofa make this wedding stage design look spectacular!
36. The Outdoor Grandiose
Image Source: Atisuto Events
A chic and graceful stage decor, this one uses a lot of white, pink, and purple flowers on a white backdrop making the whole setup look exquisite. If extravagance is what you have envisioned for your big day, then this is it.
37. With The Blessings of The Almighty
Image Source: Aash Studios
Replete with greenery, plants, flowers, and idols of god, this temple theme wedding decor is spectacular and perfect for a wedding with an overall traditional theme. Who would say no to some extra blessings anyway!
38. The Most Exquisite Chandelier
Image Source: DreamKrraftz
A simple stage decor, this one has a large ceiling of hanging flowers along with delicate chandeliers that give it a simple and attractive vibe. This kind of decor is perfect for outdoor spaces! It is sure to look nothing but beautiful on your wedding day.
39. A Riot of Colours
Image Source: DreamKrraftz
Multi-color drapes, LED lights, shimmer strings, and a starry black backdrop. What's not to love in this beautiful reception stage decor? It has that million-dollar look to make your day the best one of your life.
40. The Dream Stage
Image Source: Shawna Yamamoto & Company
A reception stage that looks like something out of a dream? Yes, please!
So, we feel that we have covered from simple to the most extravagant stages and these are some of the best marriage decoration ideas we can get for you. Tell us which one of these latest stage decoration ideas did you find the most interesting? We are eagerly waiting to know!
Image Source: Pinterest unless specified.