When planning your wedding party why go the stereotypical way? There is a wide range of ideas that you could use to make your special day both unique and exciting, not just for you but also for your guests. We looked at a ton of ideas and found nine of the best funky wedding ideas. You could play with these or make your own. Your wedding party is your canvas and you hold the brush towards a masterpiece.  
1) The Cat Lovers' Wedding Party
Image Source: Bridal Musings
If your partner and you share a love for these furry and sometimes friendly animals, then this is the perfect wedding idea for the two of you. Play with the concepts of a litter box or a ball of yarn for decoration. It will be a meow-jestic affair and will be remembered for a long time.
Image Source: Bridal Musings
Image Source: Bridal Musings
2) A School Theme Wedding Party
Image Source: Smartvaforu
Image Source: Beautifuljewellerystyles
This theme is dedicated to that one couple who has been together since school. Celebrate your journey of love from the first time you laid eyes on her till the time she said yes to the ring. Using simple decorations like notepads, books and engraved pencils for that personal touch will make this classroom wedding a great time for all the students invited. 
3) An Old Mill Wedding Party
Image Source: Bytulip
With all the old mills in the world either being torn down or renovated, find a place that you and your partner can share your love in and also enjoy the years gone by. These beautifully decorated weddings are so magical. 
4) A Glittery Wedding Party
Image Source: luxurious glitter
This carnival-themed wedding is colourful and the glitter eye makeup adds much magic to the bride. The gold foil dress is a unique way of adding sparkle to the wedding gown.
5) Old School Love Story 
Image Source: ive_events
Image Source: weddingconcept
 Sporting all their favourite styles from their college days, these two cute couples took their guests back to the days where they first discovered the meaning of love. From sporting some cool shoes to the matching denim jackets, this is a wedding for the storybooks.
6) The Fairytale Wedding Party
Image Source: brispopupweddings
This fairytale wedding could not be excused from this list of wedding themes. This couple has pulled the fairytale love story along with the gorgeous pumpkin carriage. 
7) The Alice In Wonderland Wedding Party
Image Source: conventoannuciata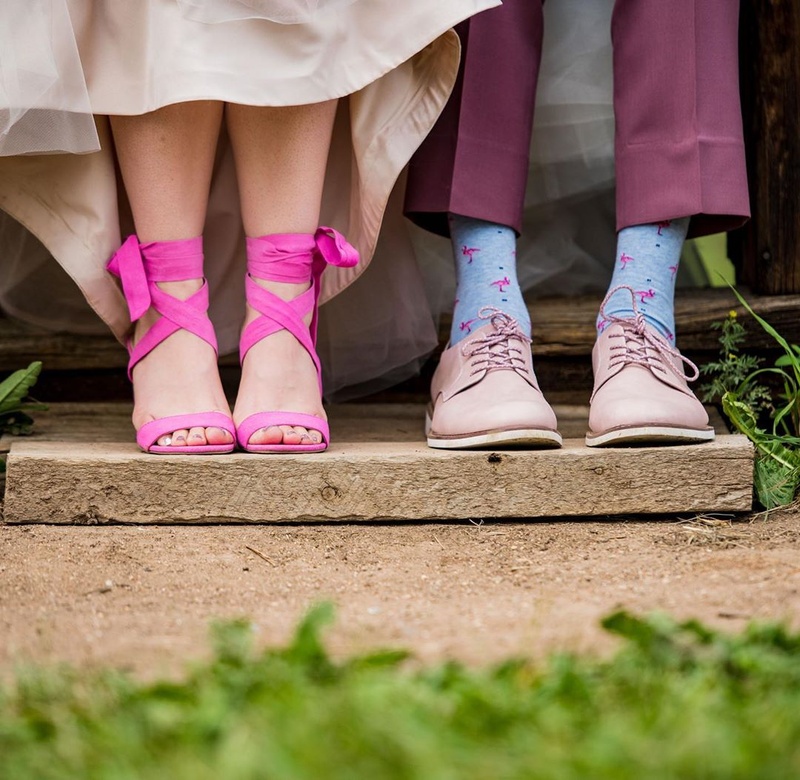 Image Source: musicintahoe
Nothing screams funky more than the characters from Alice In Wonderland. From the mad hatter to the crazy tea parties, this is a wedding theme for the couple that loves having fun together. Play with lights, have your reception in a forest, wear mismatched shoes… the list can go on and on.
8) The Colour Wedding Party
Image Source: memorycakephotography
By using these simple colour filled poppers, you won't only get some gorgeous but also play with a multitude of shades and tones for your wedding party, decor and bouquet. 
9) The Neon Wedding Party
Image Source: gooddayclub_au
Celebrate your big day with gorgeous eye-catching neon lights. Go with white, bright neon pinks and greens for colour palettes. Adding a photo booth like a cute bathtub filled with soft toys will make for some great pictures for your wedding album. 
So get your thinking cap on and think of the craziest ideas!