Scenario 1
Bride: Should I go for an updo, a chignon or waterfall braids? Oh wait! I just chopped off my hair for summer and I don't think it's going to grow that long for my winter wedding!" Damn, what do I do?!
Scenario2
Mom of bride (in a matter of fact tone): Beta, now that you are engaged, can you please start growing your hair? This crew cut that you people think is so cool, may not be the best match to your bridal lehenga."
Bride (annoyed and irritable): But mom, he likes the crew cut. And I like the crew cut. Can't we reverse the solution and I just wear an outfit that suits my current hairdo?
Mom of bride (exasperated – Hands to head) Beta, do you want to arrive at your wedding mandap in torn denims or camouflage harems?
Bride (bored): Why not?
Mom of bride: Has a nervous breakdown
Conversation sound familiar? Are you getting nightmares of wearing that perfect lehenga and having the most disastrous hair day on your wedding day? Alternatively your stylish short do is such a huge part of your personality that growing those tresses might mean you are occupying someone else's body?
Stress not, as this week we've collated glam wedding hairstyle for the short hair brides. You don't have to worry about having a bad hair day or losing your personality anymore. We also share tips on how to accessorize your mane the right way.
While our lookbook may be a steal for catholic brides, all others can rock these stunning hairstyles for their pre-wedding festivities and wedding reception.
From chic braids, curly updos to fishtail braids and more,  grab all the ideas and inspiration you  need and do it yourself, or ask your stylist to steal the look. See how our real bride Adrienne totally nails the short hair bridal look.
Roll and pin inwards – that's all it takes
Mess up your hair or give it soft waves
Create partitions and simply roll and pin each section neatly inwards
Give a parallel twist to slightly wavy hair
Inverted bob side tends to fall on your face
Simply pin them out of the way by pinning two parallel plaits into your slightly wavy hair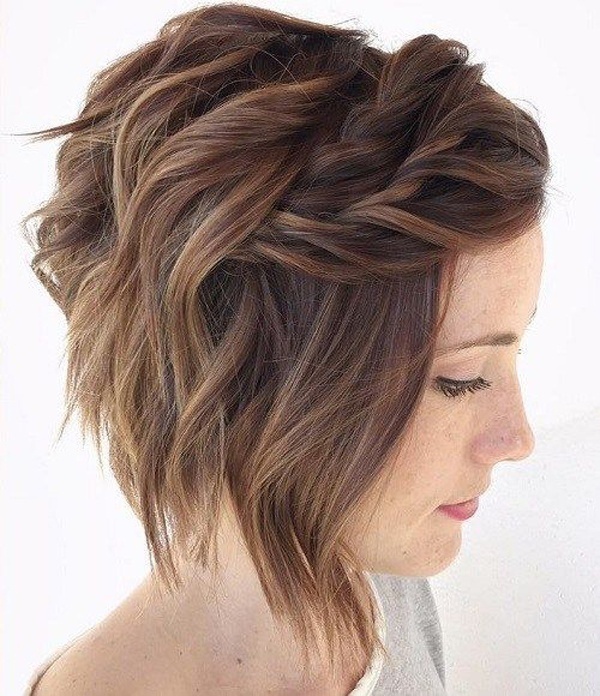 Half up half down curly hairstyle
Simple tie a twisted knot or go criss-cross
Fishtail braid
Add some oomph to a messy or wavy bob hairstyle with a side swept fishtail braid
Fasten it with a pins or cute little clips
Pins, pins and lots of pins are all you require to create this perfect look
How you pin them doesn't matter
Just ensure it looks neat and complete the look with perfectly curled bang
Thinking to go short?! Try these looks!
Straight bob cut with wavy bangs
Super gorgeous curly layered bob
Dare to go too short?
Messy bob cut
Accessorize!
A bride generally focuses so much on how to style her hair that she completely forgets the most crucial part that will accentuate her overall bridal look.
Accessories!
Accessorize your gorgeous braids, updo or a chignon with statement pieces that grab all the attention your need on your big day without completely stealing the show.
Selecting the right hair accessories can be a tricky business. The simple hack here is to choose one that will complement the overall aesthetics and not overpower it.
Here are a few suggestions to do it right.
Stunning way to wear flowers in your hair
Afraid that real flowers will fade by the time you near the end of your celebration?
Pin these fancy floral hair clips instead
Add that classic casual and romantic vibe to your bridal ensemble
Looking for something blingy?
Using bejewelled and vintage style hair accessories is the most effortless way to style your hair
Just sweep one side of your hair and clip them on
These are absolute fascinators for short hair
Crystal and rhinestone headbands are in vogue
Wear it the traditional way like a halo or…
Simply, wear it backwords
You can also choose for unconventional designs like the gilded gold band
Bun, Braids and Updo Wedding Hairstyles for Short Hair to Medium Length
Fishtail Halo Updo Hairstyle
A new stunning version of braided updo with a fishtail base
Fishtail Braided Updo
Partition your hair in two parts
For a fishtail braid on each side
Align one on top of the other
Roll and pin them below
One Side Fishtail Braid Updo
Gather you hair on one side
Form a fishtail
Circle it all the way around to form an updo and pin
Soft Braided Updo
Partition your crown hair section and leave it loose
Further divide the rest of your hair into smaller sections
Form braids and curl it till you have a fuller updo
Now create a fishtail of your crown hair section and wrap it around the loose braid
Tousled Curly Updo
This one is just curls, curls and lots of messy curls pinned inwards to form a chic updo
Don't forget to leave a wavy bang to add a touch of oomph
The Classic Chignon Wedding Updo
The traditionalist bride's favourite
This style can be masterfully created by your hairstylist
Accessorize Your Bridal Updos
Remember the word – Choose an accessory that compliments and doesn't overpower!
Sometimes a single flower is more than enough to bloom your hairstyle
Or add a two for a greater impact
Oh, what the heck!
Throw in a bunch.
It's your wedding celebration after all
Opt for side trails
Or simply accentuate your low bun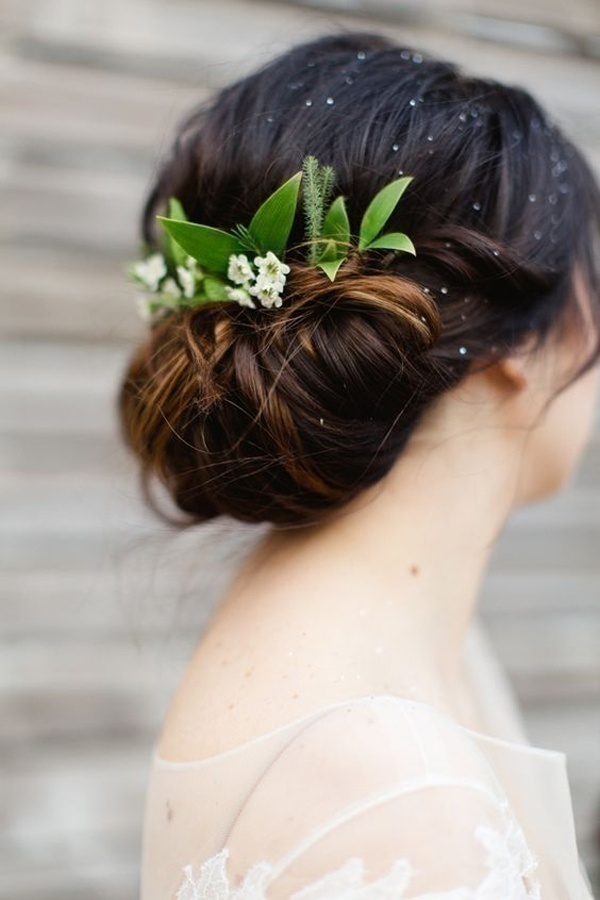 Feel like a queen, put on a floral crown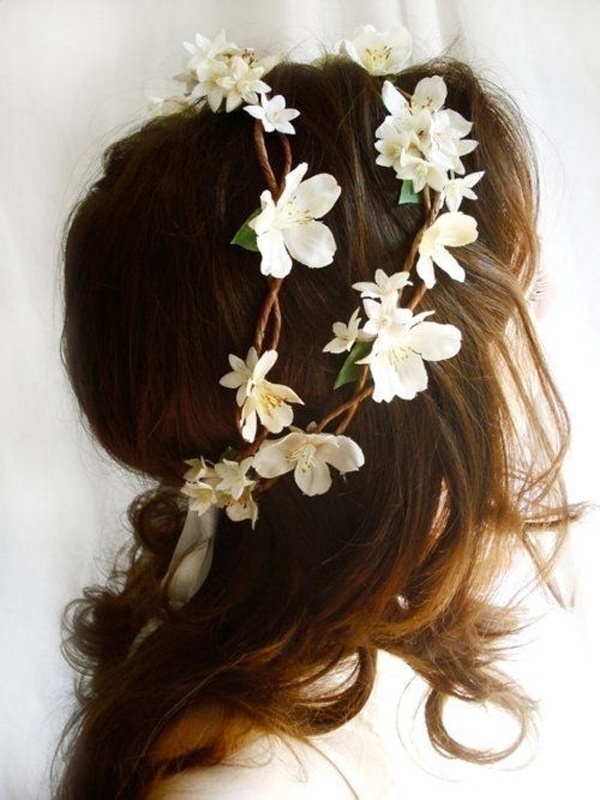 Or a glided golden band to get that Eygptian queen waali feeling
Add some bling to your hair with multi chain headpiece
Note: Your hair color can make or break the look. Ensure you do not neglect that element. Also, avoid going overboard with it.
Check out more bridal hairstyle inspirations here.