The very mention of summer weddings brings to mind chilled mocktails, comfy baggy outfits, canopies, teepees, floral arrangements and a host of vibrant elements, and peppy colours!
And believe me, like weddings all year, summer weddings must get the decor right too. This is because the decor, a crucial facet, can make or break your soiree. Treat your guests to delightful pastels, tropical drapes, brighter elements and floral arrangements.
Here's me listing some fun and eye-catching wedding decor ideas I came across this season:
1. Pastel drapes
Image source: Wedding Estates
If you are planning to have an outdoor lunch on a summer afternoon party, I suggest you pick large drapes to act as a shamiana as the highlight of the decor. The cherry on the cake will be if these drapes are in eye-soothing pastel hues, like this peach shade! Moreover, the elegant white chairs and flower arrangements add a warm vibe to the overall affair.
2. A 'flowery' mandap
Image source: Top Best
Flowers have always been sacrosanct to Indian weddings. How about having your summer wedding mandap wrapped made with oodles of bright flowers? You definitely cannot miss out on the comfortable seating arrangement as well!
3. Elegant table decor
Decor by: Altair Decor
Image source: The Wedding Salad
I am majorly crushing over this chic and understated table decor idea! Tables clad in gorgeous baby pink Banarasi fabric with gold Maheshwari border; set with dainty tea candles, rose petals and a mughal-inspired element sitting atop. Isn't it inviting?
4. Lively and colourful cabana
Decor by: Altair Decor
Image source: The Wedding Salad
You can't possibly gauge the extent of my happiness as I stumbled upon this image while scrolling through decor inspiration ideas! A hexagonal cabana in ruby pink and royal blue drapes, and pom-pom buntings is an irresistible seating option at a new-age summer shaadi! Not to miss the details like the rustic flower tokris for a phoolon ki holi!
5. Floral props
Image source: Altair Decor
I am drooling over this magnanimous floral peacock sitting in the middle of the courtyard, under pastel drapes! A unique idea to impress your guest-list.
6. Unique table centerpieces
Image source: Altair Decor
Sitting under intertwined drapes, the tables below are decorated with unique elements, serving as table centerpieces! Roses and marigolds in shakoras and traditional pickle barnis give a 'desi' twist to the wedding decor.
7. Potted plants' wall
Image source: Atisuto Events
This idea of having a wall of potted plants as a backdrop for one of the smaller ceremonies, has become quite a trend these days. It is a great alternative to the otherwise monotonous mehendi/haldi backdrops. A casual wooden bench for the couple with understated upholstery, and a wall filled with pop-up coloured terracotta pots is an idea worth bookmarking!
8. Boho-chic seating arrangement
Decor by: Atisuto Events
Image source: The Wedding Salad
These days, couples are going in for more relaxed settings when it comes to wedding ceremonies like mehendi and haldi, in particular. This boho-chic arrangement with diwan-like seatings, morocoon-inspired carved tables and gorgeous dream catchers, is a pure delight!!
9. Bar with a twist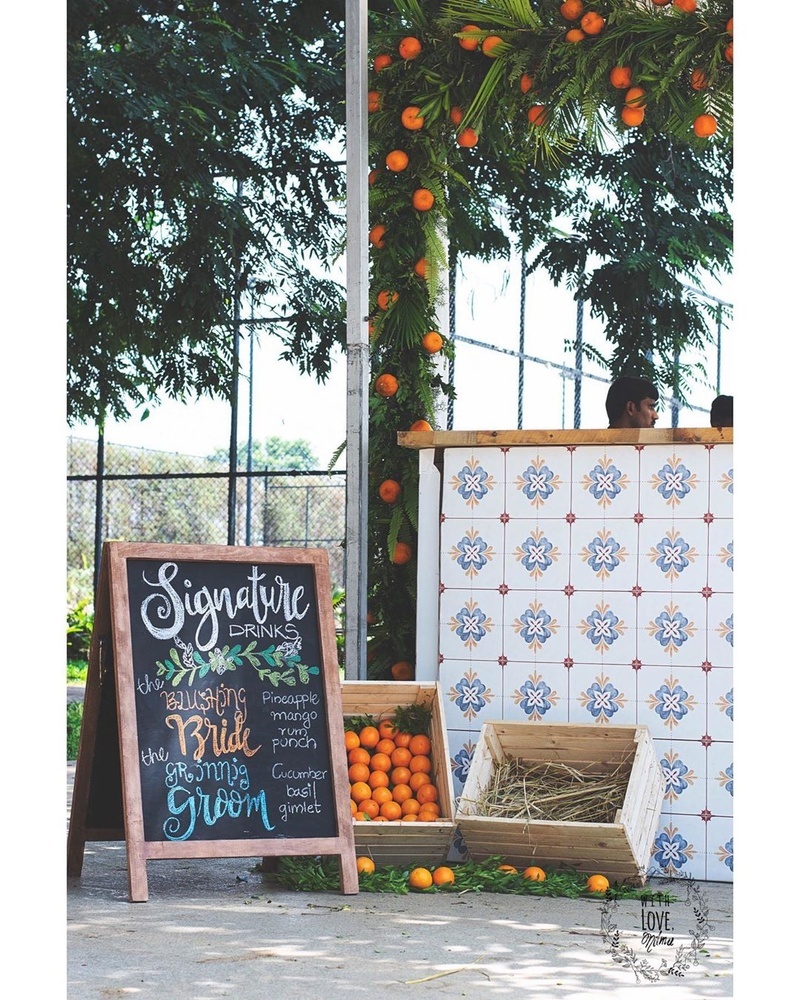 Image source: With Love, Nilma
How about having a small corner serving juices to your guests on a sunny afternoon? Not to miss the fact that these juices are named after the bride and groom, to make things a bit more fun!
10. Mediterranean vases
Image source: White Emotion Wedding Planner
I am totally floored by these Mediterranean pots with vivid colours, exuding warm vibes, and oozing a rustic feel! The bougainvilleas, cactus pads and amphoras add to the overall beauty of the look.
Are y'all geared up to impress your guests with these summery decor ideas?