Shweta Tripathi and Chaitanya Sharma's wedding has been all over the internet for quite some time now. After going through her much-talked about mehendi & engagement pictures that literally melted our hearts, I could not wait to see their wedding pictures and they are finally here!
 
Here's looking at Shweta Tripathi and Chaitanya Sharma's monsoon wedding that took place in Goa which is literally too-cute-to-handle:
Shweta looked her radiant self in a fuschia pink pink lehenga skirt paired with a floral choli and a sheer mint green dupatta by Papa Don't Preach!
In love with her makeup by FATMU. So minimal and elegant.
Look at that radiant smile:
This wedding is more special because it was a monsoon wedding and Devika Narain's Insta stories were giving some major #WeddingInspo to all the monsoon lovers country-wide. That and the fact that the wedding's theme was done keeping in mind their love story and all elements of which were adapted into their big day. A few BTS pics of their wedding decor:
How cool is their uber cool wedding hashtag? It's #GoCheetahGetBattata (which is also their respective Instagram handle names)!
And here's looking at their uber cool seating decor!
Image Source – Devika Narain
 
Also, if you dunno about their love story, here it is, from the horse's mouth itself –
"We performed in a play together – that's how we met. But, I didn't think of him as anything more than just my co-actor at the time. After it was over, we caught a flight to Bombay together, spending those two hours talking non-stop — realizing that we were were both certified and 'certifiably' crazy divers! And I landed in Bombay knowing that I had found my new best friend.
We went from messenger, to whatsapp to finally hanging out, before we decided to date.
But even before that, I told him I needed to be asked out on a roller coaster. He didn't question my weirdness – he just took me to an amusement park, made me sit on one and waited for it to go down before he asked me out! My response wasn't a 'yes' or 'no'- it was a screaming 'aaaaahhh!' It's been five years of adventures since. He's the kind of person who accepts and enhances my craziness. I don't think I've done so much 'keeda' in front of anyone, as much as I do with him.
I remember once, when I had missed out on my dream project — I secretly cried in the bathroom.. not wanting to look like a mess. And, when he saw me, he asked 'were you crying?' to which I simply nodded. Then he asked 'Do you wanna cry some more?' I just nodded again – so, he just squeezed me in his arms while I did.
He gets me. And that's the best part about our relationship…I'm more 'me' with him, than I even am with myself.
Recently, he told me that he had a play going on at a club, so I went to support him. Turns out, he'd called all our friends and family to surprise me! The stage was where our story began, and it was where we would begin our next chapter. So he called me up and rapped his proposal to me! He said 'In gujju – she's my Happy-nays!'
He makes me so happy, which was all I wanted to be since I was l was little – not a doctor, not a lawyer, not a wife or an actor.. just happy. And this is it – Absolute 'happy-nays.'"
Here's looking at this much in love couple: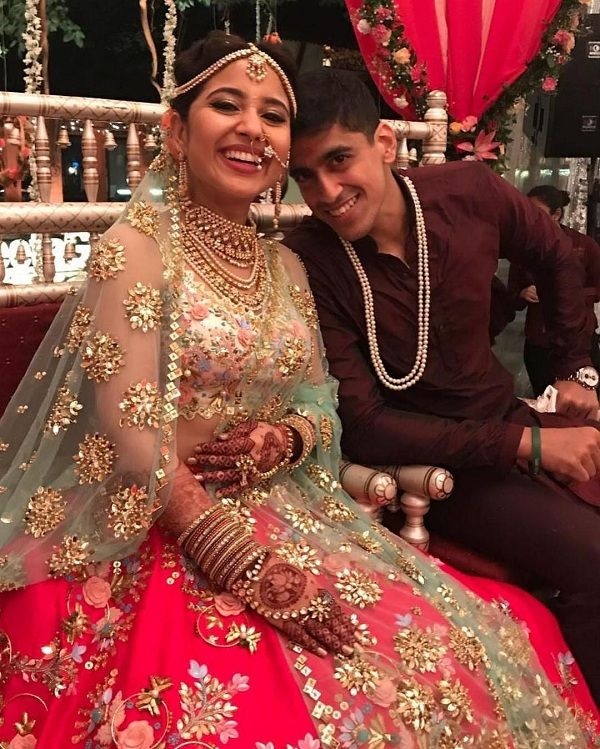 The saat pheras:
Speaking of it, the couple jointly said, "We walked 7 circles around a fire with our closest people around to make sure heaven keeps us together for the rest of our lives. It doesn't get better than this!"
Some more pictures of this cute couple:
Here's wishing this adorable couple a lifetime of happy-ness!
Vendor:
Photography – Stories by Joseph Radhik
Decor – Devika Narain
Lehenga – Papa Don't Preach
Makeup – Fat Mu