When it comes to the fashion spectrum, grooms are often left out. People tend to focus on what the bride is wearing, is her makeup on point, etc. Grooms, it's time for you to follow a few fashion tips and climb up the ladder! We've got simple and easy-to-follow fashion tips that will make sure you're at your A game!
1.Turbans
Turbans need not be heavy and bejeweled, nor do they have to be utterly plain and simple. Don't hesitate to try quirky floral turbans, they are really trending this season! We like the idea of a simple turban with one big jewel (say Emerald) on it. Royal yet classic! Also, not every turban is meant for everyone. Ask for trials and wear the one that fits you and suits you.
2. Accessorize
Attention men! Accessorizing is not only meant for women! There are tons of options for y'all- brooches, necklaces, cufflinks, finger rings and what not! You don't have to go overboard with it and make it a blingy affair, but a little bit of flash hurt no one!
Image source: Shutterdown
Image source: The Wedding Salad
3. Colours
It is not your mother's/sister's/fiance's job to pick up colours and clothes for you. Step out yourself and judge which colour suits you the best. Play with different colours throughout the functions, don't stick to one colour. Do not shy away from colours such as lemon yellow, hot pink, lavender or any colour you think isn't "manly enough".
Image source: The Wedding Story
Image source: Artfoto Studios
4. Patterns
Explore patterns my child, explore patterns. Plain sherwanis or plain jackets are so yesterday! There are florals, motifs and many more detailed works. Step out of your comfort zone, my boy!
Image source: Naman Verma Photography
Image source: Stories by Joseph Radhik
5. Fittings
You don't want to run around at the last minute when you realize you can't fit into your own sherwani/suit. Can you imagine what a nightmare it will be?! To avoid any such situations please try all your clothes in advance.
Image source: The Wedding Story
6. Coordination
Be in sync with your bride! You don't have to be all matchy matchy but don't wear something that totally clashes with your bride. Coordinate with her and wear something that compliments each other.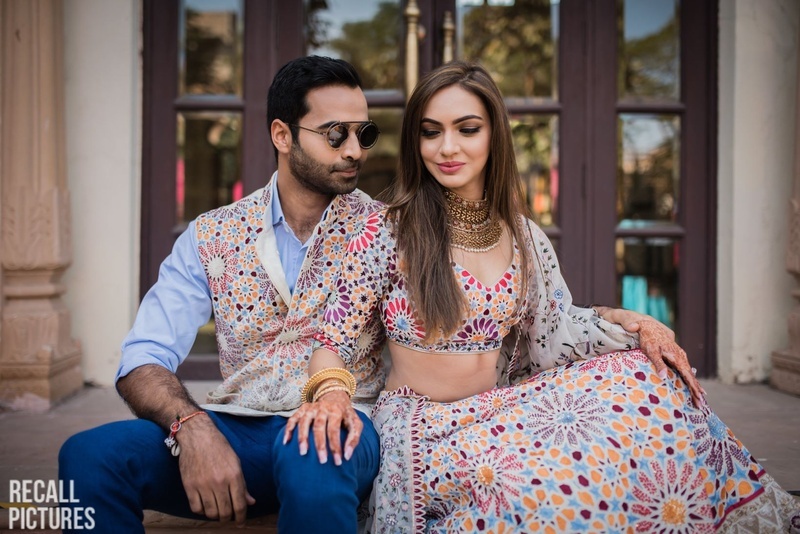 Image source: Recall Pictures
7. Footwear
Ooh, tricky lot! Shoes can be very confusing and tiring. Mojris are usually very comfortable. So be careful while choosing your footwear, cause you really want to be comfortable throughout the day. You can opt for formal shoes for other functions such as sangeet, cocktail and engagement. Go easy on the mehendi and haldi by opting for sneakers!
Image source: Knotty Days
8. Stylist
When in doubt, run to your stylist! He/she will give you the perfect advice if you're going through a fashion crisis. They'll know exactly what you want and need. Leave it to the stylist, baby!
Image source: Sunny Dhiman Photohgraphy
Image source: The Photo DIary
9. Grooming
We cannot emphasis on this enough. Groom yourself well in advance, men! Your beard is not going to style itself or magically become softer overnight. Start at least 3 weeks prior to the wedding. Consult an expert if needed. We'd suggest against shaving/haircut just a week before the wedding. Get your eyebrows done if needed!
Image source: Ananya Rijhwani
Image source: Time Shutterz
10. Makeup
Pshh.. wanna hide those dark circles caused by excessive partying the night before? Apply foundation and concealer! Please don't be under the pretext that only women can and are allowed to apply makeup. Dab on some foundation and concealer (please don't do it yourself. You don't want to be a walking white disaster!) and enter your wedding with your head held high!
Image source: Vivek Krishnan Photography
Image source: Happy Frames
Pheew! Don't worry men. Fashion is as easy as rocket science (just kidding!) Follow these tips and you'll be fine!