If you've been bitten by the personalization bug and look forward to having every little detail of your wedding customized, including your wedding cake – guess who just heard your prayers?!
Yes! Today we're highlighting one of the most easily forgotten and underrated element of weddings, which are cake toppers.
Though cake cutting is not that a major part or ceremony in traditional Hindu wedding, Christian weddings begin their reception only after the couple entry and raising the toast. However, slowly Indain weddings too are adopting the concept of west and now cake cutting at engagement, sangeet or cocktail parties seems to be the natural way to kick-start celebrations.
Along with having a customized cake for your wedding (which is trending), if you wish to personalize your cake toppers too – we've got some wacky and unique wedding cake toppers that you and your guests will not take your eyes off! Oh and BTW, these cake toppers double up to be your lovely wedding keepsake too. Take a look.   
Pine: Mine & Thine
Source: Wedding Bee
Cutesy Saguaro Cactus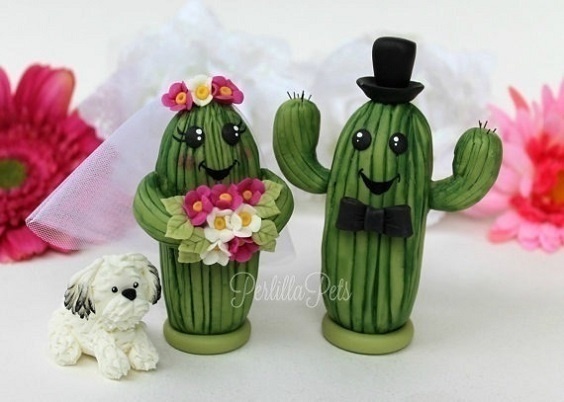 Source: Perlilla Pets
Shared Love for Doughnuts
Source: Weddingomania
Have a 2 States Kinda Love Story?!
Source: Weddbook
Wooden Pegs
Source: Cake Picture Gallery
Simple Yet So Meaningful!
Source: The Overwhelmed Bride
Destination Beach Wedding?
Source: Elegant Wedding Invites
Love The Same Sport?!
Source: Style Me Pretty
Literal Way Of Taking Creativity To The Next Level
Source: Ruffled
Found Your Missing Piece?
Source: The Funny Place
Or Found the Key to your Heart?!
Soucre: Etsy
Lastly, this we just couldn't resist including in the list.
Look how cute they're!
Source: Social and Personal Weddings
For more ideas, check these out:
> Cutesy Indian Wedding Cake Designs to Add a 'Desi' Touch to Your Celebration
> Ways of Incorporating Your Initials in Your Wedding Decorations for a Personal Touch
> Wedding Cupcake Ideas: How to Match Your Wedding Theme?
*Cover Image Source: Ruffled and Enchanted Brides