We're always on the lookout to bring you new wedding ideas and trends. Wedding decoration ideas and trends that are easy to incorporate into Indian weddings. And while on our daily dose of looking at Pinteresting things, we saw this new and upcoming trend in western weddings – the incorporation of metallics in wedding decoration. Metallics have the ability to make an impact, especially when used minimally. Even though we haven't seen this trend in Indian weddings yet, we show you how you can incorporate this trend by using 5 easy elements in 5 easy steps. You can either chose to buy or DIY these.
Step I – Add that Glistening Element to your Wedding Cake!
Wedding cakes at Indian weddings are ever evolving with time. Where our grandparents cut super-sweetened white-iced plum cake, we now engage in cutting upside-down chandelier cakes, minimalist cakes and sometimes even cut cakes with swords! So why not give this metallic wedding cake trend a try too? Perhaps it'll be something your grandchildren will talk about too! From sleek cleanly iced gold to broken metallics and ombre tones – these metallic wedding cakes sure take the cake! (see what we did there?!) 

Step II – Centrepieces to get your Guests Instagrammin'!
The most time spent during weddings is at the dinner table – so don't forget to make it pretty, we say! Rose gold tones with pastels make such a picture perfect combination. If you're the minimal loving, toned down kinda bride, then this trend is for you! This look might look to hard to achieve but in actuality is pretty damn simple. All you'll need is 
– Old mason jars, wine or beer bottles
– Spray paint cans (very easily available on amazon)
– Two-three hours of the day
Once you have these three things sorted – get those gloves and masks, throw in some flowers and you have a picture perfect instagram table setting right there!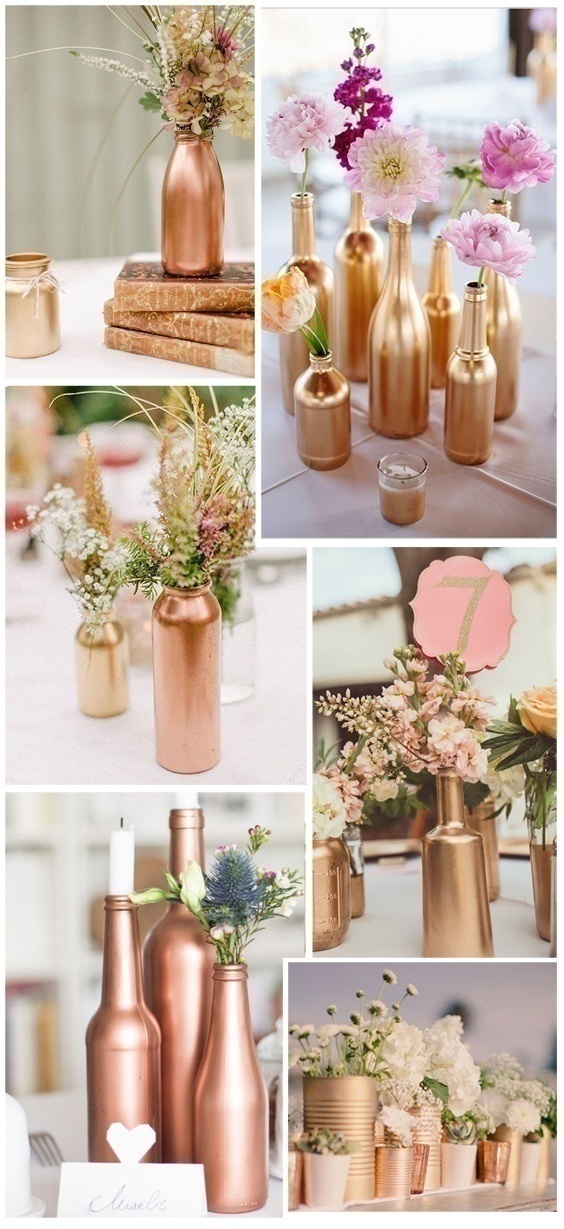 Step III – Wedding Wear (How Could We Miss Out!)
As much as we'd like to give our attention to both the bride and the groom on the wedding day, the bride seems to steal it more than the groom does (Sorry guys!) Since all eyes are gonna be on you on the wedding day, why not incorporate this metallic trend into your outfit too?! Give those traditional reds and pinks a break and try a shimmer gold lehenga or anarkali. An Important thing to keep in mind while wearing a metallic colour is to match it completely – head to toe. The mix and match style does not do well with metallic tones, hence, make sure to keep your lehenga choli or anarkali in the same shade with similar work.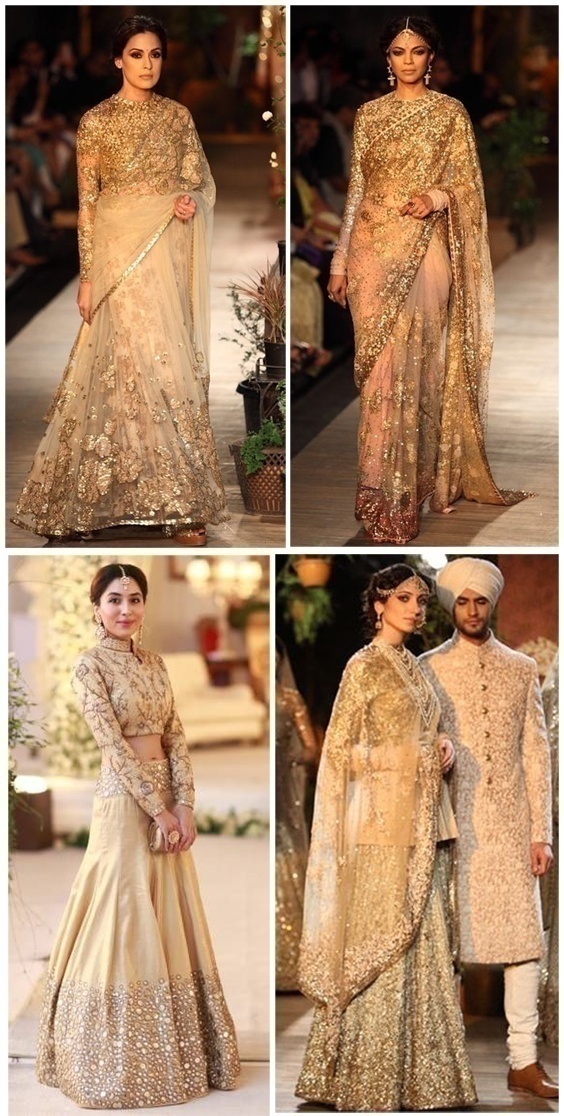 Step IV – Table Settings and Other Details
If you closely notice, metallics in these wedding details are used minimally and tastefully. You need not use metallic table covers or metallic drapes. Incorporation of elements like metallic chivari chairs, tie-backs, metallic tinted glassware, straws and gold dusted food too can bring a different kind of magic to your minimally metallic themed wedding decoration and details.



Step V – Give Away a Little Sparkle
Metallic gift packaging is a brilliant idea to make your wedding favors pop! Whether you're giving chai leaves or mint, chocolate or even wine corks – use these photos as a reference point in making your wedding gifting and favors leave your guests with a little sparkle and spunk!